Employee-Owned
Employee ownership... what it means to us.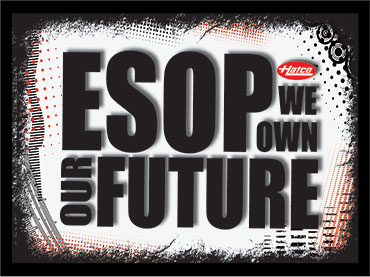 In May of 2007, a monumental event in the history of Hatco Corporation occurred. With the stroke of a pen (actually, several pens), the employees of Hatco assumed 100% beneficial ownership of the company. As significant as this event was, it should be noted that the company started by Gordon and LaReine Hatch in 1950 remains a family corporation - only now our family is large. Through the years, Hatco has been the home to some of the brightest minds, freest spirits and most singular personalities in the foodservice industry.
Hatco celebrates our Employee Stock Ownership Plan (ESOP) in many ways throughout the year, from breakfast with the ESOP Trustees, to ownership luncheons, tasty treats and ESOP t-shirts. Our ESOP status makes each employee owner appreciate his or her role and how it impacts positive change on our company and customers.
Recently, we asked a number of our employee owners, both old and new, what being part of the ESOP meant to them. We thought their answers might interest you.
'I love being an employee owner because it makes me proud to know that I am part of something so wonderful. Knowing as an employee owner I can impact the company one way or another depending upon my work performance makes me take more pride in my work.' - Angie
'Before the ESOP, we had a really engaged corporate culture. Our focus on our customers, combined with Hatco's 'do a good job and have fun' mindest made this a great place to work. Now that we're benefiting ourselves, it's even better because there's a sense of participation and permanence.' - Dave
'Starting each day, knowing your efforts have a direct impact on your own destiny is a powerful and amazing feeling.' - John
'Great people, great products, positive attitudes, easy to do business with are just a few of the accolades I hear daily from our customers, other manufacturers and reps. This is a magic formula that so many companies would give anything to have. Being a Hatco owner is truly a blessing.' - Mark
'It's wonderful, and we thank David Hatch very much for making it happen.' - Tracy